2Days,Hang Va Expedition
From: 405$
Duration

2 days/1 night

Start

Phong Nha

Finish

Phong Nha
Ages

Group size

Carbon offset
---
Overview
While not physically connected to Son Doong, Hang Nuoc Nut and Hang Va are part of Son Doong cave system based on their shared water flow. Some explorers even commented that the stalactites and stalagmites in Hang Va are even more beautiful and extraordinary (see pictures below) than Son Doong cave, but you should see and feel it yourself.
These caves were found recently in 2012. To be one of the people who put early human steps into the caves, you will have to hike, stoop through the entrance, use ropes and cross some rivers including the ones inside the caves.
But don't worry, we provide the very best adventure experiences with every aspects of the trip are carefully planned including delicious meals, the highest safety standards, and friendly and informative adventure guides.
Come and enjoy unique and unforgettable experiences in the caves with our dedicated adventure tours. Although this tour operates 3-4 times per week, the maximum capacity is only 8 people per tour, so please book in advance because available places will be filled very quickly.
QUICK FACTS
Operating: From Feb to Aug (closed from Sep to Jan)
Duration: 2 days / 1 night
Adventure Level: Moderate (level 4) for physically active guests
Availability: 3 departures / week
Small Group Tours: 2 - 8 pax
Minimum Age: 16 years old
Tour Starts: 8:00 – 8:30 AM, from any local hotel in Phong Nha
Tour Ends: 5:00 – 5:30 PM, at any local hotel in Phong Nha
Price: USD405/pax
PRICING AND AVAILABILITY
Our Hang Va Expedition is available only 3 times per week in year 2016(Every Monday, Wednesday ,Friday). We are strictly limited to 8 guests per departure. Therefore, it is advised to book in advance to secure your place.
This tour is operated from February to August (closed from September to January).
---
Map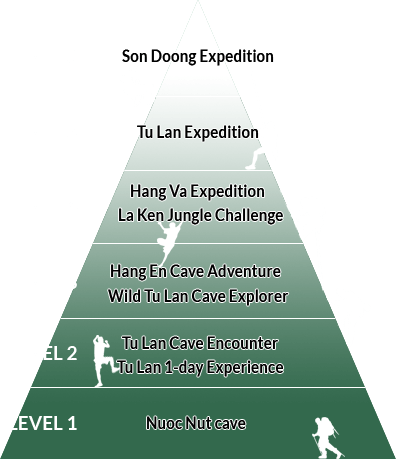 ---
Itinerary
Day1: Phong Nha – Hang Nuoc Nut - Hang Va jungle camp
For your convenience, we will pick you up at your hotel in Phong Nha between 8:00 – 8:30 AM and drive to Oxalis Headquarters. At Oxalis Headquarters, you will collect your gear, listen to a tour briefing and please be noted that you need to sign our Release Form before driving 45 minutes through the National Part to the trailhead.
From the trailhead, we will enter the jungle and hike to the entrance of Hang Nuoc Nut. Here we put on our Petzl helmets and Hope Technology 1500 lumen head lamps. Once inside the low opening the cave enlarges dramatically and we explore the high level series with excellent photographic opportunities. We have a picnic lunch with ice cold drinks provided before setting off in the cave for around 2 kilometres. Enjoy the beautiful formations, enormous passage and Underground River, again with many photographic opportunities.
Leaving the cave you will trek on a jungle path which though short is on a tough and difficult terrain. The jungle campsite is located at the base of huge cliffs next to the entrance of Hang Va. Camp will be set up and tea/coffee will be supplied as well as a delicious dinner served by our local chef. This is a true jungle camp and a great experience around camp fire listening to the jungle noises.
Day2:Hang Va – Phong Nha
Day 2 is the highlight of the expedition. Before experiencing this fantastic cave, Hang Va, you will have a delicious breakfast at around 8:00 am.
First, you will have to climb down the steep entrance of Hang Va. It can be quite slippery, so move slowly and with care. To ensure your safety, we will have a rope for you to clip into with a harness which will be provided for you. You will continue to wear the harness at all times inside Hang Va Cave.
After that, if we are early, there is a chance to swim in a downstream pool inside Hang Va before heading upstream. You will walk most of the time in water flowing through the river passage, climb up and down, and squeeze between the rocks. The water level of the river passage can be as high as chest level, so be ready to be wet for about 4 hours.
When you reach the end of the wet passage, you will need to use the harness again to carefully climb up to the high level passage. You will be amazed with this high level area because of its stunning formations, really rare throughout the world. In this area, we will have a lot of time to take beautiful images with the support of Hope technology and extra lights prepared specifically for photography in Hang Va Cave.
Finally, we will head back to the camp, enjoy lunch and at around 2:00 pm, walk back to the road by a different route to the pick up point. Our driver will take you back to your hotel in Phong Nha by about 5:00 pm.
Hang Va Expedition adventure level
Please make sure that your health is suitable for these activities with ease.
10km jungle and mountain trekking, rocky terrain
3km caving in river caves (cold water, 17 degree Celcius, waist deep)
Elevation gain is 150m (between road and mountain top)
20m traverse using rope and harness
2 days and 1 night in jungle and caves
WE WILL PROVIDE
Caving & safety gear: caving helmet, caving headlight, gloves, harness
Camping gear: hammock (with mosquito net), camp light, sleeping bag
Semi dry bag (for clothing and personal belongings excl. electronics) for inside your backpack
Basic canvas trekking boots (only if you do not have your own pair) sizes 36 – 46
Meals: picnic lunch (Day 1), BBQ dinner (Day 1), breakfast (Day 2), lunch (Day 2)
Professional English-speaking tour guide and guide safety assistant
Porter team to carry all camping gear and prepare meals
Shared dry box for phones and small cameras (limited availability for larger cameras)
Water filter and purifier (used only by guide and porters)
Basic camping facilities with eco-friendly compost toilet using Western toilet seat
First Aid Kit (application by guides only)
YOU WILL NEED
1 long (easy to dry) pants and 1 long sleeved shirt to wear during the trek (quick dry)
1 pair of trekking boots/shoes – difficult terrain, good footwear necessary. Gore-Tex/waterproof boots are NOT recommended as they do not drain well (if you prefer your own comfortable pair)
2 pair of calf length densely woven socks (not ankle socks!)
1 backpack to hold personal items
1 small towel
1 set of camp clothes (shorts are okay for around camp; please bring a fleece in winter)
1 pair of flip flop (sandals) for campsite
1 change of clothes for after the tour
Personal items: mosquito repellent, sunscreen, sunglasses, hat, camera, underwears, toiletries
---
Calendar
Departure
Days
Price
Check more tour option... Book this trip
Sunday, 28 May 2023 2Days,Hang Va Expedition
2 days/1 night

Book now

Monday, 29 May 2023 2Days,Hang Va Expedition
2 days/1 night

Book now

Tuesday, 30 May 2023 2Days,Hang Va Expedition
2 days/1 night

Book now

Wednesday, 31 May 2023 2Days,Hang Va Expedition
2 days/1 night

Book now

Thursday, 01 June 2023 2Days,Hang Va Expedition
2 days/1 night

Book now

Friday, 02 June 2023 2Days,Hang Va Expedition
2 days/1 night

Book now

Saturday, 03 June 2023 2Days,Hang Va Expedition
2 days/1 night

Book now

Sunday, 04 June 2023 2Days,Hang Va Expedition
2 days/1 night

Book now

Monday, 05 June 2023 2Days,Hang Va Expedition
2 days/1 night

Book now

Tuesday, 06 June 2023 2Days,Hang Va Expedition
2 days/1 night

Book now
---