Bhaya Classic 4 Star Cruise
From: 220$
Duration

2 days/1 night

Start

Finish
Category

Themes
Ages

Group size

Carbon offset
---
Overview
Built in oriental style with contemporary luxury, Bhaya Cruises established new standards of luxury cruising in Vietnam when Bhaya Classic I entered service in summer 2007. Our fleet consists 04 Bhaya Classic junks. Recently, Bhaya Classic, with total 75 Cabins and Suites, offer tours of Halong Bay in junk boats which boast ultimate comfort and luxury. Bhaya Classic proudly presents the premium cruise operator in Halong Bay which guarantees greater availability for your cruises.
Bhaya Classic  - each offers 20 luxury Cabins and Suites accommodating a maximum 40 passengers.
Features:
2 Accommodation Decks

1 Lounge Deck with Dining Room and Bar

1 Sundeck

18 Deluxe Cabins

 2 Royal Suites

1 Massage and Spa Area

1 Boutique Library

Complimentary wifi
Deck Plan
Each of cruises has 04 decks at 360 square meters. Main deck includes reception, lobby area, 18 deluxe cabins and staff's cabins. On the upper deck has 02 royal suites cabins and massage and spa area. Bar, restaurant and kitchen are located on terrace deck. Sundeck is highest deck on our cruise. Here is sunbathing and relaxing area with a panoramic view of Halong Bay.
---
Itinerary
Bhaya Classic 2 Day 1 Night Cruise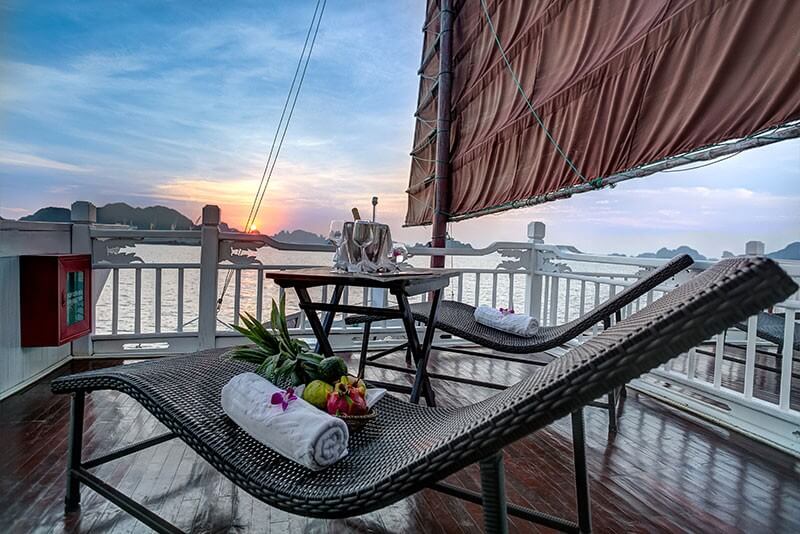 Our 2 day 1 night Halong Bay cruise puts you front and centre in the magnificent natural landscape of Halong Bay. Step aboard and sail quietly among countless rugged islands, and sheer cliff faces topped by lush jungle. On board the Bhaya Classic, sit back and enjoy remarkable cuisine while taking in unparalleled scenes of natural beauty.Explore fascinating formations and authentic local life at Vung Vieng village, paddle a kayak to find hidden beach of Ban Chan island, and allow a sunrise Tai Chi session to slow down time for just a bit, and hold that beautiful moment in your memory.
Bhaya Classic 3 Day 2 Night Cruise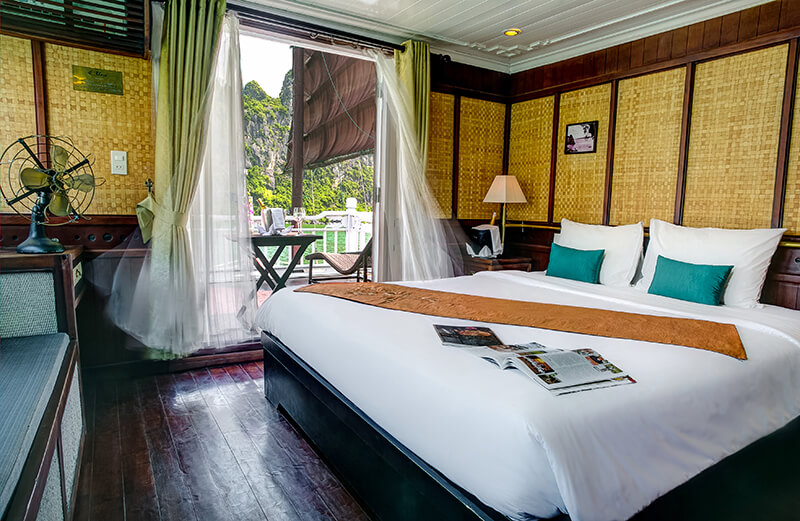 Spend three days on a relaxed exploration of Halong Bay's scenic wonders, as well as visiting the less well known but equally impressive Bai Tu Long Bay. Explore these wild and natural shores; swim and kayak amidst the emerald waters, and explore incredible limestone caves. With three days, you'll have some flexibility in your activities, so you can really see the best of what this amazing area has to offer.
---
Calendar
Departure
Days
Price
Check more tour option... Book this trip
Monday, 21 June 2021 Bhaya Classic 4 Star Cruise
2 days/1 night

Book now

Tuesday, 22 June 2021 Bhaya Classic 4 Star Cruise
2 days/1 night

Book now

Wednesday, 23 June 2021 Bhaya Classic 4 Star Cruise
2 days/1 night

Book now

Thursday, 24 June 2021 Bhaya Classic 4 Star Cruise
2 days/1 night

Book now

Friday, 25 June 2021 Bhaya Classic 4 Star Cruise
2 days/1 night

Book now

Saturday, 26 June 2021 Bhaya Classic 4 Star Cruise
2 days/1 night

Book now

Sunday, 27 June 2021 Bhaya Classic 4 Star Cruise
2 days/1 night

Book now

Monday, 28 June 2021 Bhaya Classic 4 Star Cruise
2 days/1 night

Book now

Tuesday, 29 June 2021 Bhaya Classic 4 Star Cruise
2 days/1 night

Book now

Wednesday, 30 June 2021 Bhaya Classic 4 Star Cruise
2 days/1 night

Book now
---