Huong Hai Sealife 4 Star Cruise
From: 170$
Duration

2 days/1 night

Start

Finish
Ages

Group size

Carbon offset
---
Overview
Passengers: 52

Total Cabins: 26

Type: Deluxe cruise 
Huong Hai Halong luxury cruise is the best Ha long bay cruise. Huong Hai sealife cruise is newly launched in February 2013. Huong Hai Sealife Cruise with 26 new and luxury cabins with balcony has reached high marine safety standards of the governments that promise to be the best choice for big group joining breath-taking Halong Bay tour.
Amentities
- Individualcontrolair-conditioning                          
- MiniBar/snack  
- Safetybox
- Lifevests
- ireextinguisher/Smokedetector
- Television
- Large window
- Shower                                                        
- HotWater
- Hair dryer 
- BathroomAmenities
- Bathrobe 
- Complimentary mineral water bottles 
- Glass standing shower
Additional facilities for Executive Suites:
- Jacuzzi
- Flower & Fruits 
- Bottle of wine or sparkling wine/stay/Executive Suites 
- Other special in-room amenities
The cabins
- Total number of rooms: 26 (22 Suites & 4 Executive Suites)
- Average Suite room size: 20 m2 with balcony
- Average Executive Suite size: 26 m2 with balcony
- Average bed size (Double): 180 cm * 200 cm
- Average bed size (Twin): 100 cm x 200 cm
- Maximum number of persons allowed per room: 02 adults
- Room Type: Non-smoking
Restaurant
With aspacious and inviting atmosphere, the Sea Flora restaurant on Huong Hai Sealife Cruise provides customers the perfect dining experience. Our seasonal menus use the best fresh local ingredients. The atmosphere is intimate and the service is always attentive and personalized.
The Sea Flora restaurant includes a bar where customers can enjoy cocktails and wine. You will be charmed and appreciate the warm ambiance and flavorsome cuisine accompanied by stunning views over the beauty of Halong Bay.
Activities
- Fishing on board 
- Kayaking & Snorkeling 
- Tai Chi Activities   
- Visit floating fishing village                             
- Amazing cruise program
- Cooking demonstration
- Movie night 
- Vietnamese tea & coffee tasting 
---
Itinerary
Huong Hai Sealife Cruise 2 Days 1 Night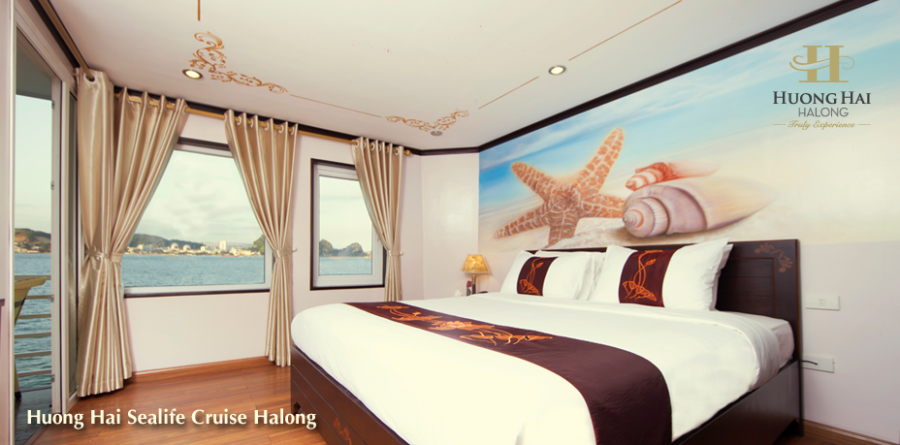 With Huong Hai Sealife Cruise 2 days 1 night, you will have luxury-pleasure stay & enjoy the most beautiful areas on Halong bay as Bai Tu Long Bay,
 Huong Hai Sealife Cruise 3 Days 2 Nights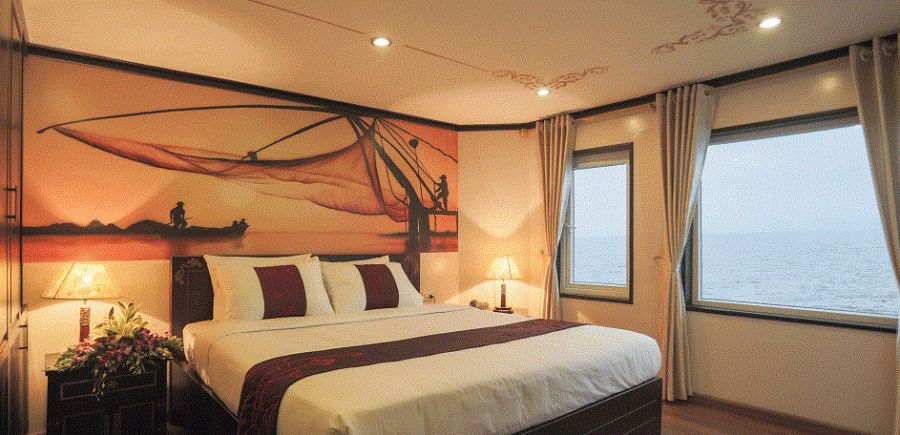 From 12 June 2015, Huong Hai Ha Long company has officially exploited new routes: Hon Gai Dock - Bai Tu Long Bay
---
Calendar
Departure
Days
Price
Check more tour option... Book this trip
Monday, 21 June 2021 Huong Hai Sealife 4 Star Cruise
2 days/1 night

Book now

Tuesday, 22 June 2021 Huong Hai Sealife 4 Star Cruise
2 days/1 night

Book now

Wednesday, 23 June 2021 Huong Hai Sealife 4 Star Cruise
2 days/1 night

Book now

Thursday, 24 June 2021 Huong Hai Sealife 4 Star Cruise
2 days/1 night

Book now

Friday, 25 June 2021 Huong Hai Sealife 4 Star Cruise
2 days/1 night

Book now

Saturday, 26 June 2021 Huong Hai Sealife 4 Star Cruise
2 days/1 night

Book now

Sunday, 27 June 2021 Huong Hai Sealife 4 Star Cruise
2 days/1 night

Book now

Monday, 28 June 2021 Huong Hai Sealife 4 Star Cruise
2 days/1 night

Book now

Tuesday, 29 June 2021 Huong Hai Sealife 4 Star Cruise
2 days/1 night

Book now

Wednesday, 30 June 2021 Huong Hai Sealife 4 Star Cruise
2 days/1 night

Book now
---