Red Dragon Cruise
Price contact
Duration

0 days

Start

Finish
Category

Themes
Ages

Group size

Carbon offset
---
Overview
Named and designed after an authentic Chinese junk, the original Red Dragon Junk plied the rivers, seas and harbors of the Far East, from Singapore to northern China. Red Dragon Junk is ready to cruise the bay to celebrate your special event.
Our Red Dragon is complete with 5 deluxe cabins and 2 decks, which resonate with superior class and grandeur. Although it is larger than the Prince and L'Amour Junks, it is still small enough for an intimate view of the natural wonders, pocket lagoons and small fishing communities of Bai Tu Long Bay, cruising off the beaten track. The charming Red Dragon Junk is an excellent companion to explore the natural beauty while enjoying the warm welcome from our well trained staff.
As soon as you board the Red Dragon, you will be surrounded by richly detailed woodwork handmade by Vietnamese artisans. Whether you are relaxing in the comfort of your own cabin, lounging on the spacious sun deck, or dining in the cozy restaurant, you will feel like royalty.
This masterpiece is a wonderful option for those who need a little more space for a small group cruise of up to 11 people.
---
Itinerary
2D1N Halong Bay and Bai Tu Long Bay Cruise
Two day one night cruise to untouched Bai Tu Long Bay is ideal for you to discover natural beauty and local life in a limited time schedule, you will get to visit cave, go kayaking and visit a floating village. This trip takes you deep into natural wonder and experience a memorable night in the majestic bay.
The route is off the beaten track and our staffs are keen on taking care of customer's request, it is quite potential to be your highlight trip in Vietnam.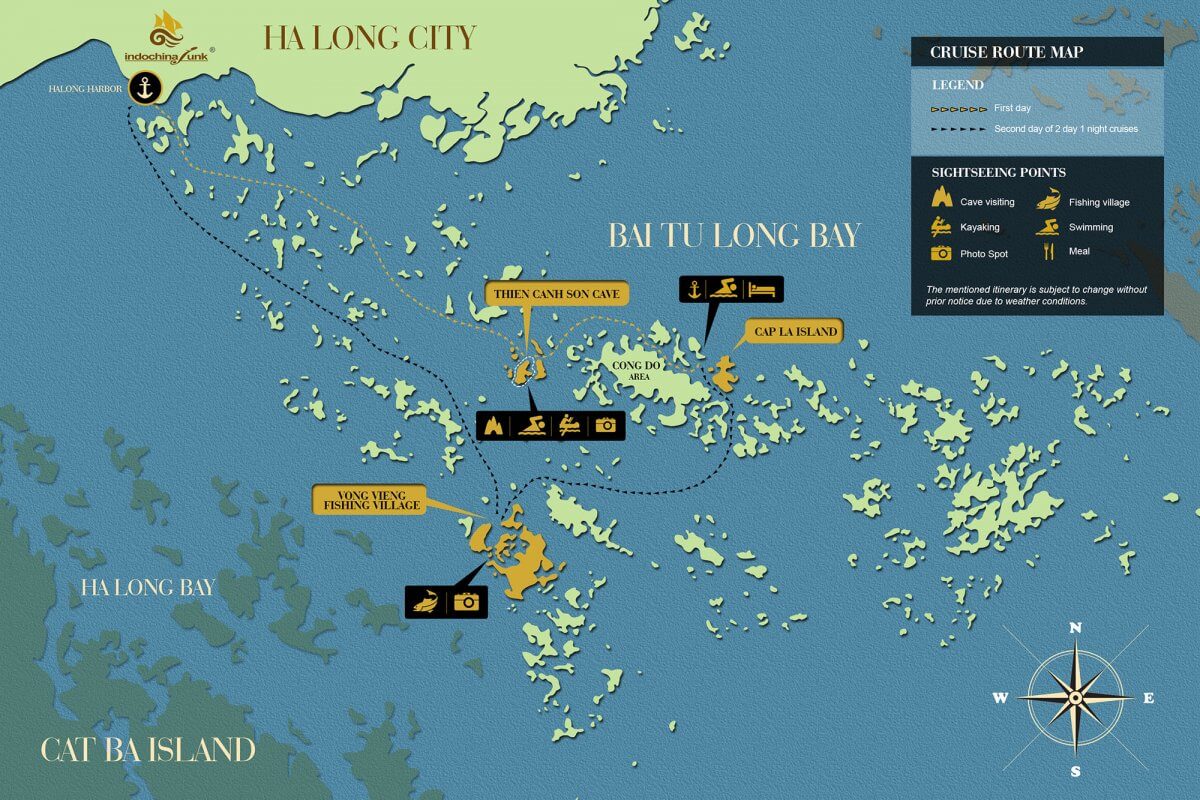 3D2N Halong Bay and Bai Tu Long Bay Cruise
Bai Tu Long is still an uncharted bay in Halong, offering a chance to get "off the beaten track", visit fishing villages and discover the secrets of the sea.
For small groups in luxury junks, our staff – dedicated to your personal service and comfort – will make our offer unique and your trip unforgettable!
A longer cruise at a relaxed pace with more time to get "off the beaten track" and discover the secrets of Halong Bay and Bai Tu Long Bay, visit fishing villages, explore by kayak and experience unforgettable dining.
This worthwhile three-day trip on one of our traditional junks offers the highest quality luxury and comfort as you enjoy wonderful Halong Bay. Cruise with us and have a once in a lifetime experience.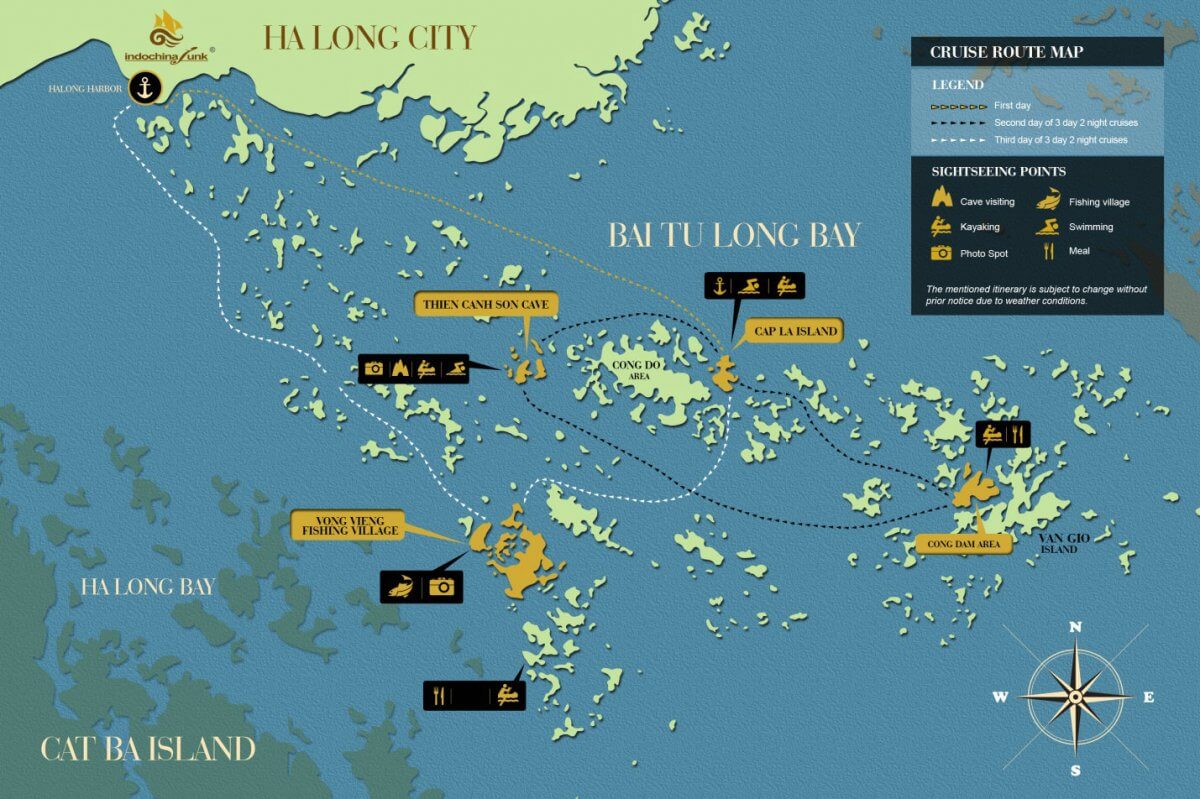 4D3N Halong Bay and Bai Tu Long Bay Cruise
This four day three night cruise to Bai Tu Long Bay is absolutely unique and impressive with many activities. You will kayak to get closer to small limestone islands, fishing with local people, enjoy a BBQ lunch in the private beach…
Keeping you off the beaten track with 3 nights staying in the Bay, you will be guided to admire the spectacular nature and get into local life in the floating village. The crews follow you during the trip and dedicate to personal service.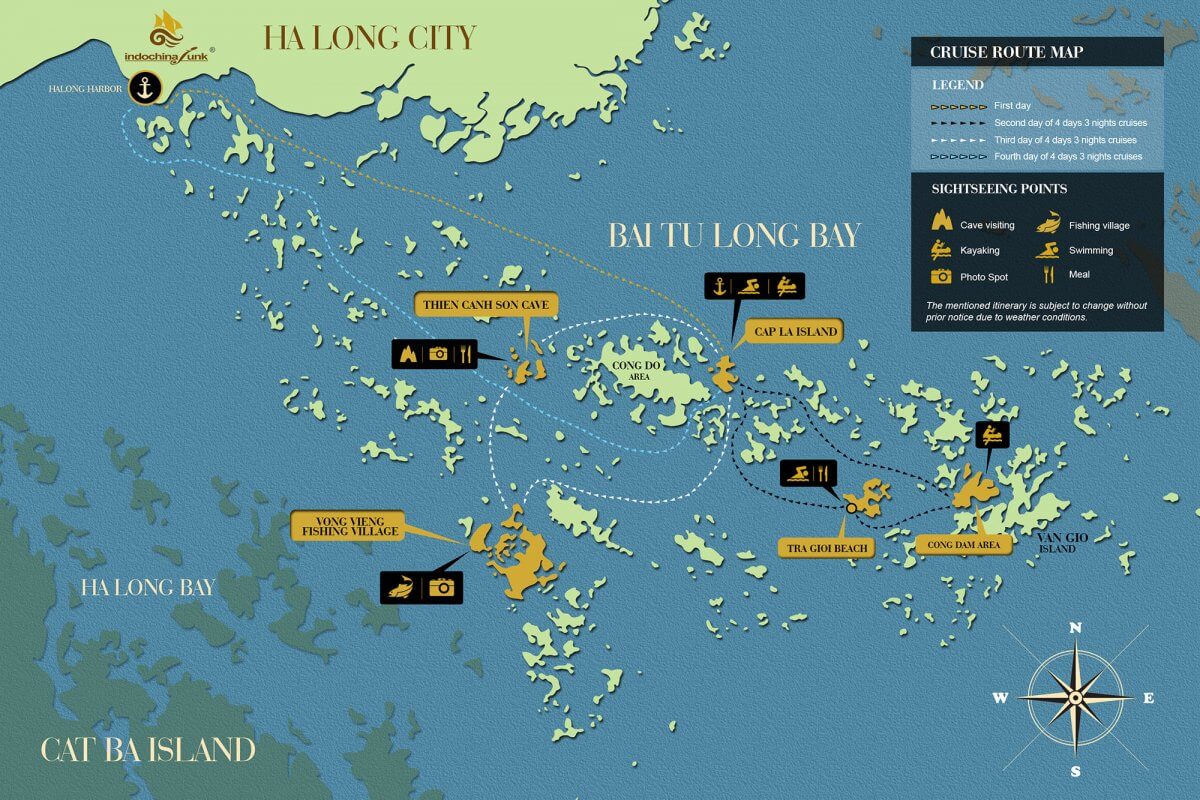 ---
Calendar
Departure
Days
Price
Check more tour option... Book this trip
Sunday, 16 May 2021 Red Dragon Cruise
0 days

Book now

Monday, 17 May 2021 Red Dragon Cruise
0 days

Book now

Tuesday, 18 May 2021 Red Dragon Cruise
0 days

Book now

Wednesday, 19 May 2021 Red Dragon Cruise
0 days

Book now

Thursday, 20 May 2021 Red Dragon Cruise
0 days

Book now

Friday, 21 May 2021 Red Dragon Cruise
0 days

Book now

Saturday, 22 May 2021 Red Dragon Cruise
0 days

Book now

Sunday, 23 May 2021 Red Dragon Cruise
0 days

Book now

Monday, 24 May 2021 Red Dragon Cruise
0 days

Book now

Tuesday, 25 May 2021 Red Dragon Cruise
0 days

Book now
---