15 day, Vietnam – Laos overland tour
From: 1,234$
Duration

15 days/14 nights

Start

Viet Nam

Finish

Laos
Ages

Min 12

Group size

Min 1, Max 12

Carbon offset

35kg pp per trip
---
Overview
Code: tVL003
VIETNAM – LAOS OVERLAND
DAY 1: ARRIVAL IN HANOI (D)
DAY 2: HANOI – NINH BINH (B/L/D)
DAY 3: NINH BINH – NA MEO – VIENGXAY (2 HRS) (B/L/D)
DAY 4: VIENGXAY – SAM NEUA – XIENG KHOUANG/PHONSAVAN (7-8 HRS) (B/L/D)
DAY 5: XIENG KHOUANG/PLAIN OF JARS (B/L/D)
DAY 6: PHONSAVAN (XIENG KHOUANG) – LUANG PRABANG (5-6 HRS) (B/L/D)
DAY 7: LUANG PRABANG (B/L/D)
DAY 8: LUANG PRABANG – OUDOMXAI (4-5 HRS) (B/L/D)
DAY 9: OUDOMXAI – DIEN BIEN PHU (5 HRS) (B/L/D)
DAY 10: DIEN BIEN PHU – MUONG LAY – PASO (B/L/D)
DAY 11: PASO – SAPA (B/L/D)
DAY 12: SAPA – LAO CAI – HANOI (B/L/D)
DAY 13: HANOI – HALONG (B/L/D)
DAY 14: HALONG – HANOI (BRUNCH/D)
DAY 15: DEPARTURE FROM HANOI (B)
---
Map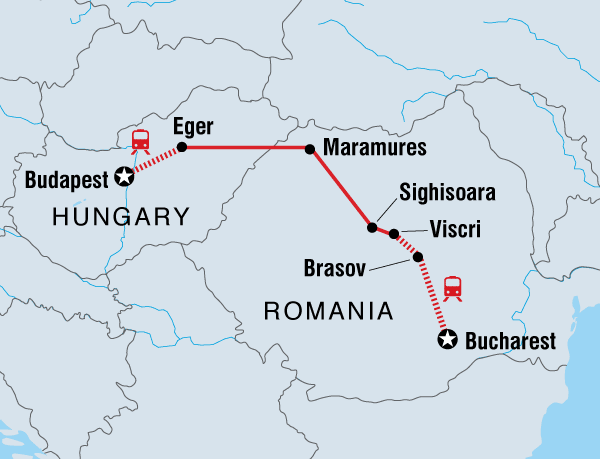 ---
Itinerary
DAY 1: ARRIVAL IN HANOI (D)
Meet on arrival at Hanoi/Noi Bai International airport, transfer to hotel for check in. Late afternoon, take a panoramic cyclo tour (1 hour) around the Old Quarter of Hanoi and Ngoc Son Temple. In the evening enjoy at dinner at a local restaurant and a water puppet show at Thang Long theatre, the unique Vietnamese traditional art. This art originates from rural festivals in Vietnam. The artists stand waist-deep in the water to manipulate the puppets, making them move around, talk, laugh and even dance on the water surface. Transfer to hotel at the end of the show. Accommodation at Hotel
DAY 2: HANOI – NINH BINH (B/L/D)
After breakfast, pick-up at the hotel and depart for Ninh Binh (2-hour drive). Take a sampan ride to Tam Coc also known as "Halong-on-land", where limestone rocks are rising from rice fields forming a landscape similar to Guilin, in China. Lunch at a local restaurant. In the afternoon, visit Bich Dong Pagoda, dating back to the 17th century, and the Temples of King Dinh and King Le. Dinner and accommodation at the hotel
DAY 3: NINH BINH – NA MEO – VIENGXAY (2 HRS) (B/L/D)
After breakfast, transfer to the Na Meo border. (visa on arrival not yet implemented). Lunch at a local restaurant. After lunch head to the Kaysone Phomvihane Memorial Cave Office for a guided tour that will take us to 6 of the 480 caves, which transformed Viengxay into a de facto cave city between 1964 and 1973. It was in these years that Laos became caught up in a secret war which remains largely ignored in world history. The caves were used to house leaders, fighters of the Pathet Lao army. Dinner and accommodation at Naxay Guesthouse (Very basic accommodation).
DAY 4: VIENGXAY – SAM NEUA – XIENG KHOUANG/PHONSAVAN (7-8 HRS) (B/L/D)
Breakfast at the hotel. Early in the morning we leave Viengxay and drive across the mountains to Sam Neua, the capital of the Houa Phan Province. From Sam Neua we continue our journey on narrow winding roads (in good condition) towards Xieng Khouang. The journey offers a beautiful scenery and on the top of the hills, the flora at these heights differs from the low lands. You will pass numerous villages, mainly Hmong.
Note the characteristic Hmong houses are large, wooden, built on the ground, some of them still with wooden roofing. Most women weave and tie-die the special patterns of Sam Neua. Lunch at a local restaurant. Right before arriving to Muang Kham, we will visit the nearby cave of Tham Piu, where 374 villagers perished in an American bombing raid in 1968. Late arrival for dinner and accommodation at Vansana Hotel
DAY 5: XIENG KHOUANG/PLAIN OF JARS (B/L/D)
Breakfast at the hotel. Start your visit of the Plain of Jars with monolithic site no. 2, located on two hilltops. Continue to site no. 3 located amidst rice fields. Drive on to Muang Khoun, the ancient Tai Phouan Capital, that was destroyed during the second Indochina war. The ruins of Vat Piavat and That Foun are the only remnants of a significant past. Lunch at a local restaurant. Return to Phonsavan passing numerous large Hmong settlements. Arrive at Jar site no. 1 featuring the greatest number of jars and the largest monolith in size. Dinner and accommodation at Vansama Hotel
DAY 6: PHONSAVAN (XIENG KHOUANG) – LUANG PRABANG (5-6 HRS) (B/L/D)
Breakfast at the hotel. Leave Phonsavan along the mountainous road with beautiful panoramic views. You will pass many large Hmong villages built along high crests. Eventually, the mountains give way to small hills. Lunch stop at Phoukhoun, the junction of Route 13 and Route 7, connecting to Luang Prabang, Vientiane and Phonsavan. Continue to the ancient capital Luang Prabang. Dinner and accommodation at the hotel
DAY 7: LUANG PRABANG (B/L/D)
After breakfast, pick up at the hotel and visit main highlights of Luang Prabang: Vat Vixoun, Vat Aham, Vat Mai and Vat Xieng Thong, the most beautiful temple of Luang Prabang, dating back to the 16th Century.
Lunch at a local restaurant. In the afternoon visit the Royal Palace Museum, housing the most important treasures of Laos' recent past. (Tuesday closed) Continue to Vat Sene. See the diverse local crafts sold on the Hmong market in the early evening. Dinner at a local restaurant. Accommodation at the hotel
DAY 8: LUANG PRABANG – OUDOMXAI (4-5 HRS) (B/L/D)
Breakfast at the hotel. Early start towards Oudomxai passing a mountainous landscape with mainly Hmong and Khmu villages. Lunch at a local restaurant. The region further north gets more and more mountainous with Hmong villages built along the crests. Stop on the way to visit villages. Arrive at Oudomxai in the afternoon for check in at a guesthouse. After check in there is a possibility to stretch the legs by climbing That Phouxay to overlook the city and surroundings. Dinner at a local restaurant. Accommodation at Chamming Lao Hotel
DAY 9: OUDOMXAI – DIEN BIEN PHU (5 HRS) (B/L/D)
After breakfast at the hotel, we continue going north towards Pongsali and pass small villages along the road and close by the river. At Sin Xai we head east, then stop for lunch in Muang Khua. After lunch, continue the journey towards Vietnam and in the afternoon we cross the border and head for Dien Bien Phu. Pick-up at Tay Trang border and transfer to Dien Bien Phu for overnight (40km, 1hr from the border). Dinner at a local restaurant. Accommodation at basic hotel.
DAY 10: DIEN BIEN PHU – MUONG LAY – PASO (B/L/D)
Breakfast at the hotel. Visit the Dien Bien Phu Museum, the notorious hill A-1 battlefield, the former French command post and a captured tank. Lunch at a local restaurant. Drive to Muong Layand then proceed to Paso through absolutely spectacular scenery. Paso offers fine opportunities for hiking, with Hmong and Dzao hill tribes in the area. Dinner and accommodation at a guesthouse.
DAY 11: PASO – SAPA (B/L/D)
Breakfast at the hotel. Drive from Paso to Sapa. From Paso, the road winds up to Tam Duong, another breathtaking location with a bowl of terraced rice paddies fringed by mountains, an excellent place for hiking. From Tam Duong, drive through more stunning scenery into the mountains and rolling hills winding up to Sapa. Lunch en route. Dinner and accommodation at the hotel
DAY 12: SAPA – LAO CAI – HANOI (B/L/D)
Breakfast at the hotel. Take an 8 km ride on the rim of a deep valley, followed by 30 minute walk to the so-called rattan bridge & the ethnic Ta Van village of the Dzay people. Continue with a walking visit to Cat Cat village. Lunch at a local restaurant. Return to Sapa and enjoy some time at leisure before the transfer to Lao Cai. Dinner at a local restaurant and then take an overnight train to Hanoi (Shared sleeper cabin)
DAY 13: HANOI – HALONG (B/L/D)
Early arrival in Hanoi. After breakfast drive 160 km east to Halong. Upon arrival in Halong Bay board a junk or for an unforgettable cruise. Enjoy a seafood lunch on board. Take a fantastic cruise in Ha Long bay, visiting some islands and caves and take a swim at Titov beach. Dinner and overnight on board.
DAY 14: HALONG – HANOI (BRUNCH/D)
Wake up in the middle of the bay, practice Tai Chi while the sun rises. Continue visiting the bay, then enjoy a brunch while the junk is sailing back to the wharf. Disembark and transfer to Hanoi, drop off at your hotel.
Dinner and Accommodation at the hotel
Note: Since you have to leave the boat around 11.30am lunch will be served on board very early.
DAY 15: DEPARTURE FROM HANOI (B)
Breakfast at the hotel. Time at leisure before the transfer to the airport.
---
Inclusions
Accommodation with meals as indicated in the program
Transfers, tours with English speaking local guide
Entrance fees, water puppet show
2 days/1 night on Junk
Service charges, room tax and handling fee
Train ticket Laocai – Hanoi in a shared 4 person sleeper cabin
---
Exclusions
International airfare to/from Vietnam
Personal insurance
Expenditure of a personal nature, such as drinks, souvenirs, laundry & etc.
International departure airport tax
Laotian/Vietnamese visas fee
Other meals, transport or tours than those mentioned in the program.
---
Calendar
Departure
Days
Price
Check more tour option... Book this trip
Monday, 18 October 2021 15 day, Vietnam – Laos overland tour
15 days/14 nights

Book now

Tuesday, 19 October 2021 15 day, Vietnam – Laos overland tour
15 days/14 nights

Book now

Wednesday, 20 October 2021 15 day, Vietnam – Laos overland tour
15 days/14 nights

Book now

Thursday, 21 October 2021 15 day, Vietnam – Laos overland tour
15 days/14 nights

Book now

Friday, 22 October 2021 15 day, Vietnam – Laos overland tour
15 days/14 nights

Book now

Saturday, 23 October 2021 15 day, Vietnam – Laos overland tour
15 days/14 nights

Book now

Sunday, 24 October 2021 15 day, Vietnam – Laos overland tour
15 days/14 nights

Book now

Monday, 25 October 2021 15 day, Vietnam – Laos overland tour
15 days/14 nights

Book now

Tuesday, 26 October 2021 15 day, Vietnam – Laos overland tour
15 days/14 nights

Book now

Wednesday, 27 October 2021 15 day, Vietnam – Laos overland tour
15 days/14 nights

Book now
---