Myanmar stopover
From: 499$
Duration

4 days/3 nights

Start

Finish
Ages

Group size

Minimun 2 people

Carbon offset
---
Overview
Day 1. Yangon arrival and sightseeing(By car)
Day 2. Yangon-Golden Rock(By car)
Day 3.Golden Rock-Bago-Yangon(By car)
Day 4. Departure (By car)
---
Map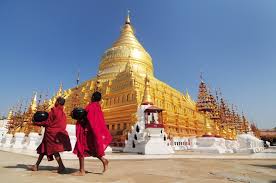 ---
Itinerary
Yangon-Golden Rock-Bago-Yangon (4 Days/3 Nights)
Day 1. Yangon arrival and sightseeing(By car)
Arrival at Yangon International Airport, welcome by our tour guide. On the way, visit to Kabaraye Pagoda which means World Peace Pagoda and Pasayana Cave in the pagoda compound where the Sixth Buddhist Synod was held. And then to the ChaukHtatGyi and check in to the hotel. Afternoon tour of Yangon includes Karaweik Hall (a Royal barge) in the Royal Lake for photo stop and the Great Shwe Dagon Pagoda which is one of the wonders of the world.Overnight at hotel in Yangon.
Day 2. Yangon-Golden Rock(By car)
After having breakfast at the hotel, the guide will pick you and drive to Golden Rock near KyeikHto town in Mon State. On the way to Golden Rock,we will visit to Allied War Cemetery, Kyeik Pun Pagoda and Kyat Kha Wine Monastery. After that, proceed to Golden Rock. This pagoda is regarded as a miracle by Buddhist devotees. It is a small spire of 18ft (5.5m) believed to enshrine a hair relic of the Buddha .It is set atop a huge boulder which in turn is balance on the edge of a cliff. The wide open platform gives a fantastic view of the distant mountains,especially at sunset. Devotees believe that a pilgrimage to this pagoda brings them good health and fortune. After that, enjoy sunset beauty on hill top and overnight at hotel in Kyaikhtiyo.
Day 3.Golden Rock-Bago-Yangon(By car)
Morning at leisure and then in the midmorning, drive down to the base camp and return to Yangon via Bago. Make a short visit of Bago town tour including Shwe Maw DawPagoda,Hinthagone Pagoda ,ShweTharLyaung Pagoda and Hantharwaddypalace.Afterthat,drive back to Yangon and overnight at hotel in Yangon.
Day 4. Departure (By car)
Free at leisure in the morning. Upon your flight time, transfer to Yangon Airport for your departure with sweet memory.
---
Calendar
Departure
Days
Price
Check more tour option... Book this trip
Sunday, 05 February 2023 Myanmar stopover
4 days/3 nights

Book now

Monday, 06 February 2023 Myanmar stopover
4 days/3 nights

Book now

Tuesday, 07 February 2023 Myanmar stopover
4 days/3 nights

Book now

Wednesday, 08 February 2023 Myanmar stopover
4 days/3 nights

Book now

Thursday, 09 February 2023 Myanmar stopover
4 days/3 nights

Book now

Friday, 10 February 2023 Myanmar stopover
4 days/3 nights

Book now

Saturday, 11 February 2023 Myanmar stopover
4 days/3 nights

Book now

Sunday, 12 February 2023 Myanmar stopover
4 days/3 nights

Book now

Monday, 13 February 2023 Myanmar stopover
4 days/3 nights

Book now

Tuesday, 14 February 2023 Myanmar stopover
4 days/3 nights

Book now
---