YANGON DAY TRIPS
Price contact
Duration

0 days

Start

Finish
Ages

Group size

Carbon offset
---
Overview
One of the best places to visit in Asia is Yangon, Myanmar's largest city. Nature lovers will appreciate the city's lakes, shady parks and verdant trees. Yangon certainly lives up to its reputation of being 'The Garden City of the East'.
---
Itinerary
TOUR 1: YANGON FULL DAY CITY TOUR
Departure: Daily depart from Yangon
Duration (approximate): 09:00 – 18:00 hrs.
Transfer from/to hotel included: YES
Meals included: NO
Seat-in-coach Tour: NO
Private Tour: Minimum 2 persons
Language:English speaking guide

Itinerary in details:
• 09:00 hrs. Start the day at the SULE PAGODA, a gleaming octagonal pagoda that stands squarely at the centerpoint of the city.
• Visit the NATIONAL MUSEUM (closed on Mondays, Tuesdays and Public Holidays) to gain an insight into Myanmar.
• Enjoy a break at BOGYOKE (SCOTT) MARKET, a pleasant covered market containing crafts from all corners of Myanmar, gems, fabrics and more. (The market is closed on Mondays and public holidays).
• In the afternoon, visit some of the more well known pagodas, including BOTATAUNG PAGODA
• Visit CHAUKHTATGYI PAGODA, the reclining Buddha in Yangon which is almost as large as the enormous figure of Shwethalyaung Buddha in Bago
• Finally, continue to the SHWEDAGON PAGODA, the highlight of any visit to Yangon. Towering over the city.this pagoda is the most sacred spot in the country, built to house eight hair relics of the Buddha. The Shwedagon and surrounding shrines are at their most beautiful during the sunset hour, as the golden stupa reflects the changing colors of twilight.
• Return to hotel at 18:00 hours
2. YANGON FOOD TOUR
Tour length: 01 day
Destination: Yangon
Tour type: Food Tour
Cities: Yangon
Itinerary in details:
Commence your cooking with a drink at Monsoon restaurant in Yangon downtown. The local chef will accompany you to one of the Yangon markets where you will get an insight to essential ingredients used in Myanmar cuisine. We return to the class room where you will be given recipe and own work station with ingredients. Our chef will guide you through the cooking and food preparation process.
We spend time to learn how to prepare some typical Myanmar dishes and will be rewarded at the end of the class by self-prepared lunch or dinner. Ask for more details on the menu and timing for your desired date.
3.YANGON AND POTTERY VILLAGE
Tour Departure: Daily from Yangon hotels
Duration (approximate): 08:30 – 17:00 hrs
Transfer from/to hotel included: YES
Meals included: Lunch
Seat-in-coach tour: NO
Private Tour: Minimum 2 person
Language: All major foreign languages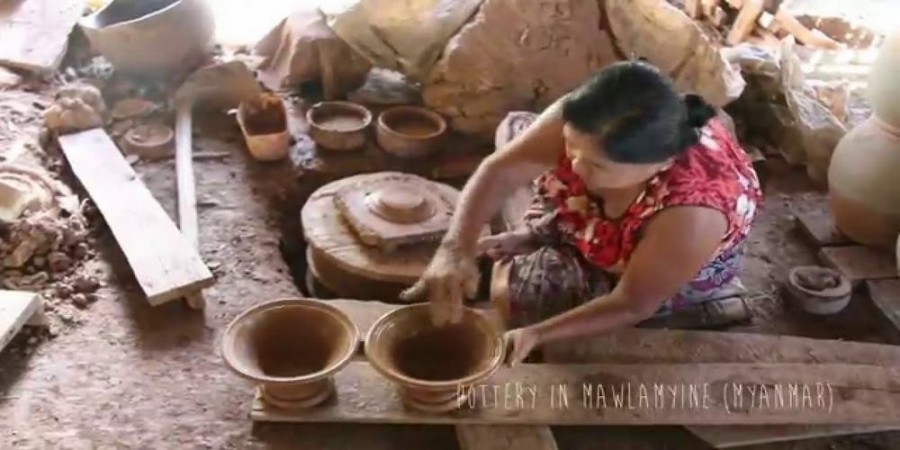 • Visit Kaba Aye (World Peace Pagoda) and Mahapasana Guha Cave, where the Sixth Buddhist Council took place and the National Museum with an 8-meter-high Golden Lion Throne and Mandalay Royal Regalia.
• Continue to the riverside Botataung Pagoda and to Yangon's oldest Chinese temple.
• Lunch at Monsoon Restaurant.
• Departure to Twante. Located on the other side of the Yangon River, Twante village has very much retained its original character. We will take a local taxi to the jetty and take a local ferry across the river.
• Once across, a one hour drive by local taxi will take us to Twante. The road is extremely bumpy and you should be prepared for an uncomfortable yet very interesting ride, which provides a glimpse of life on and along the famous Twante Canal.
• After a visit to Shwesandaw Pagoda we can take a trishaw to the pottery area where a large part of the population in Twante is engaged in production pottery. Walking through the many workshops where locals are busy molding pots, we will be able to observe this very traditional craft.
• Drive back to Yangon by local taxi and ferry.
• Local taxi from jetty back to the hotel at approx. 1830 hours.
4.YANGON PHOTOGRAPHY TOUR
Tour length: 01 day 
Destination: Yangon
Tour type: Yangon Photo tour
Cities: Yangon
Itinerary in details:
Yangon is one of the best place to capture the spirit of Myanmar life where the golden magnificence of Shwedagon Pagoda and it's crumbling British colonial architecture demonstrate the distinctiveness of the city. For further photographing of local life, a unique travel on the circle train will expose you the daily life of vendors while the landscape changes from busy city to peaceful villages.
Our Yangon photography Tour will be escorted by one of the famous photographers in Yangon who has prizes in the fields for years.
The tour is customizable for those who want to capture the different themes from landscape to portraits, from heritages to daily life.
Note: this tour should be arranged far in advance so that you can have the best photographers.
---
Calendar
Departure
Days
Price
Check more tour option... Book this trip
Tuesday, 05 December 2023 YANGON DAY TRIPS
0 days

Book now

Wednesday, 06 December 2023 YANGON DAY TRIPS
0 days

Book now

Thursday, 07 December 2023 YANGON DAY TRIPS
0 days

Book now

Friday, 08 December 2023 YANGON DAY TRIPS
0 days

Book now

Saturday, 09 December 2023 YANGON DAY TRIPS
0 days

Book now

Sunday, 10 December 2023 YANGON DAY TRIPS
0 days

Book now

Monday, 11 December 2023 YANGON DAY TRIPS
0 days

Book now

Tuesday, 12 December 2023 YANGON DAY TRIPS
0 days

Book now

Wednesday, 13 December 2023 YANGON DAY TRIPS
0 days

Book now

Thursday, 14 December 2023 YANGON DAY TRIPS
0 days

Book now
---