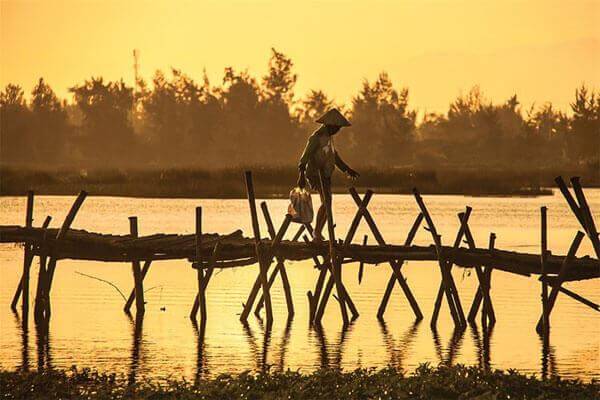 Duration

13 days/12 nights

Start

Finish
Ages

Group size

Carbon offset
---
Overview
Vietnam trip
13days/12nights
Itinerary in briefs:
Day1: Hochiminh arrival – fly to Hoi An -Transfer to Hoi An
Day2: Hoi An ancient town
Day3: Hoi An – My Son sanctury
Day4: Hoi An – Drive to Hue- Chuon Lagoon tour
Day5: Hue ––Thuy bieu Eco village
Day6: Hue at leisure -  Fly to Hanoi 
Day7: Hanoi city tour
Day8: Hanoi – Hoa Lu- Tam Coc
Day9: Hanoi – Halong Bay cruise
Day10: Halong Bay cruise
Day11: Halong Bay cruise - Hanoi
Day12: Hanoi – Fly to Hochiminh
Day13:Hochiminh departure 
---
Itinerary
Itinerary in details:
Day1: Hochiminh arrival– fly to Hoi An-Transfer to Hoi An
Upon arrival Hochiminh at 3:40 PM, we wait to take the fight to Danang at 19:50-21:10. Upon arrival Danang, pick up and transfer to Hoi An.
At leisure and overnight in Hoi An.
Day2: Hoi An ancient town (B)
Breakfast at hotel.
Free leisure time in the morning.
Atfernoon walking tour exploring charming little township of Hoian including old quarter, Japanese bridge and Thubon river. Walking amongst old streets and lane to visit old houses dating back to 300 year ago. There are many things to see and do in Hanoi, one thing we can be sure you never feel bored while being in this lovely town.
Overnight at hotel in Hoi An.
Day3: Hoi An - My Son Sanctuary (B)
Breakfast at hotel.
AM: We visit My Son Hindu Sanctuary, a UNESCO World Heritage Site, is a great sample of the ancient Champa civilization located in the southern part of Vietnam .
PM: Free leisure time.
Day4: Hoi An - drive to Hue (B)
Breakfast at hotel.
This morning we head out on a lovely journey to Hue. On the way visit to Cham Museum in Danang, stop at Lang co beach, Hai Van pass to take great photos.
Afternoon at 3:00 Pm we have a half day tour explore Chuon Lagoon (group tour)
+Discover the daily life of the fishermen
+Contact to local fishermen about their life and then participate in local activities such as: casting nets, fishing, and catching shrimp.
+Top off at a local restaurant to watch beautiful sunset and enjoy fresh just caught ingredients.
Overnight at Hue Ecolodge.
Day5: Hue imperial city & Thuy Bieu village (group tour) (B)
- 8:30- 09: 00 am: Our driver will pick you up from your hotel. Embark on boat at Toa Kham wharf for a cruise along Perfume River.
- Visit Dong Ba market and buy necessary food for cooking class with our chief.
- Visit a Thien Mu pagoda – the symbol of Hue city.
- Back to the boat for a scenic cruise to Thuy Bieu village – the Garden of Eden in Hue. 
- Arrive Thuy Bieu, a nice walking or biking around village.
Visit local garden ,old ancestral temple and communicate with local people.
 Visit incense making family to discover the daily life of local people while they are working strenuously with joy and enthusiasm.
Visit joss paper making family to know more about a tradional custom of Vietnamese people and know why they use joss paper, also known as ghost money,  for the died people.
 Visit paper painting family to see the countryside painting art of the young local artists.
- Come back to Thuy Bieu restaurant for cooking class, you will prepare lunch by yourself with our chief's instruction.
- Have lunch with Hue traditional dishes you have just cooked.
- Relax by soaking your foot in medicinal herb water – a traditional therapeutic practice.
- Enjoy excellent massage by blind people.
After that we visit the Citadel and the Forbidden Purple City.
Overnight in Hue.
Day6: Hue – Fly to Hanoi (B)
Your free leisure time in the morning.
Afternoon, transfer you to the airport  for the flight to Hanoi .
Arrival Hanoi, pick up and transfer to the hotel.
Overnight at hotel in Hanoi.
Day7: Hanoi city tour (B)
8:00 we have full-day tour of Vietnam capital city. You will visit Hochiminh mausoleum complex  and the Litterature Temple (a habitual symbol of Hanoi), the Museum of Ethnology. Afternoon, pay a visit to the Hoan Kiem Lake with its Ngoc Son temple. Enjoy a kind of traditional Vietnamese stage-art – Water puppet show, overnight at hotel in Hanoi.
Day8: Hanoi – Hoa Lư – Tam Coc (B)
Breakfast at hotel.
8am: pick up from your hotel and drive  2 hours through the northern countryside to Tam Coc  often called  "Dry Halong Bay". Drive to Tam Coc,Limestone carsts rise from rice fields and winding streams. Enjoy the spectacular scenery during a leisurely boat ride in traditional local sampans paddling through Three caves (Tam Coc in Vietnamese). Enjoy the wonders of nature sets in a  peaceful rural villages nestled in the hidden corner of Red river Delta.  Afternoon drive along the wonderful route of Vietnam's " Inland Ha Long Bay " through villages, rice fields and impressive limestone mountains  to Hoa Lu to visit Temples of the Dinh and Le Dynasties.Hoalu was formerly the capital city of Vietnam before 1010 AD, and discover an important piece of the country's early history  in the " Ancient Capital ".
Transfer you back to Hanoi. Overnight at hotel in Hanoi.
Day9:Hanoi – Halong Bay cruise (B,L,D)
08.00 Pick up guests from hotels at Hanoi Old Quarter and depart to Halong.
12.15 Embark at Tuan Chau Marina. Enjoy free tea at Gray Line reception room
12.30 Get on Gray Line boat easily by private quay, then you will be warmly welcomed by crew team who will serve you in the trip. Welcome drink will be served instantly during cruise briefing. Check in your reserved cabin and take a rest.
13.20 Enjoy a nice set lunch. Relax on sundeck and grab the unparalleled scenery of Halong Bay while cruising ahead to the Bay. Cruise through Hoa Cuong floating fishing farm.
15.00 Visit Titop Island by tender. Free choice of activities such as sunbathing, swimming, conquering the peak of the biggest island in Halong named of a Russian space hero and taking panoramic photos of Halong bay in the afternoon.
16.00 Challenge yourself at Luon cave by kayaking – an indispensable water activity in Halong offering the serenity of escape, particularly in the late afternoon, it cools your soul down to recover after a 4-hour-car drive.
17.30 Go back Gray Line boat for relaxation. Gradually revise your vitality by enjoying fantastic views of Halong on sundeck at dusk. Enjoy a mini sunset party with complimentary seasonal fruits and finger foods. Get memorable sunset moment and order some Halong styled glasses of cocktail by joining buy-one-get-one-free program, made by our skillful bartenders.
18.30 Join cooking class on the sundeck. Gray Line's chef shows you how to make Spring Roll - an authentic specialty, which is voted for World's 50 best foods by CNN.
19.30 A sophisticated dinner that gives you an appetite will be dedicatedly served in romantic ambience, especially with BBQ fresh seafood and a variety of Vietnamese and Western foods.
21.00 Evening activities: watching film at the outdoor bar; playing board, guitar and card games; going fishing squid on tender. Enjoy squid cooked after fishing.
22.00 Overnight at the quietest sleeping area, End of the first day in Halong
Day10:Halong Bay cruise (B,L,D)
06.30 Refresh your new day by doing Tai Chi exercise on the sundeck or be ready your camera while Dawn breaks over the sea.
07.30 Have a light breakfast with coffee, tea and bakeries at Gray Line restaurant.
8.30 – 16.00 Take you to a little-known part of Halong by a sightseeing boat. There is probably no way to discover the beauty of Halong Bay perfectly, except being local fishermen and doing as they do daily. Flexibility is always the way to adapt for weather and tide condition of local men in Halong Bay. For this reason, three main activities will be arranged flexibly in that day:
1, You have an opportunity to learn how to go offshore fishing by local fishing boat; join in fishing activities with locals; try using fishing gears and experience how hard their life are… under guidance from a real local fisherman, whose face is sunburned due to their hard living. This is the foremost essential activity created by Gray Line Halong cruise.
2, You will have another chance to do kayaking near the Drum cave under Karst rocks, which is closely attached with a love story of locals that surely let you see the hidden beauty of Halong and people there. The first day might be not enough and the second is for you to unleash your expectation with that exciting water activity.
3, By visiting Pearl farm and tour guide's experience, they will feast your eyes lively. You will take a deep look at a typical pearl farm on Halong Bay and will know more about how to make real pearls from nature creatures in Halong.
In addition, a whole day to be fishermen, Gray Line also brings you to Van Gia village area where you can run your eyes over ruin of one of the famous floating villages in Halong and partially understand how they survive in simple forms of floating houses.
From fishing to practicing typical activities as locals daily do, they are the best and the core value of our trip which Gray Line wish you to get insights of the local life there. You may understand and love Halong Bay, not only by the beauty of nature, but also the beauty of fishermen who keep vitality for many years in Halong Bay.
16.30 You might be tired with full of beautiful moments and real experience. Time to get back Gray Line Cruise and recapture your energy
17.30 Relax and enjoy sunset with fresh fruits on sundeck. The buy-one-get-one-free promotion will be run one more time. Do not miss it.
18.30 Join in cooking demonstration on sundeck. Learn how to make fresh or fried spring rolls and mix fish-sauce
19.30The second fabulous BBQ dinner impresses you while mellow sounds of sea and music come together
21.00 Enjoy your last evening on Halong Bay by drinking, playing games, going fishing and relaxing in your own way
22.00 End of the second day with a sound sleep in peace of the natural heritage site
Day11: Halong bay – Hanoi (B)
06.30 Awaken you at dawn and Tai Chi exercise is ready to start a good day
07.30 Have a breakfast at Gray Line restaurant
08.30 Explore Me Cung (Maze) cave. This little known cave is located on a remote island, which is rare in cave-lake seascape. Climb up several rugged stone stairs to admire the miracle of stalactites in a very complex structure, then gradually overlooking to the west, a great lake considered as a royal garden will appear infont of you, surrounding by natural mountain walls and seemingly isolated on the bay. Its water looks blue all year round and breathtaking from high above. Moreover, values of nature and archeology about Maze cave as well as the life of local ancient people in thousand years ago will be revealed by Gray Line's professional tour guide.
9.30 - 10.30 Come back the cruise. Time to check out your cabin, relax among grand views. Farewell lunch is deliciously served whilst Gray Line keeps on its route back to the marina
11:45 Disembark at Tuan Chau Marina. Relax at Gray Line reception room. Go back to Hanoi , arrive Hanoi at around 4:00 PM.
Check in hotel and have a rest.
5:30 -8:30 PM :  Discovery Indochina compliment street food tour / cooking class tour  enjoy delicious food of Hanoi.
Day12:Hanoi- Fly to Hochiminh (B)
Breakfast at hotel.
Transfer you to the airport for the flight to Hochiminh city at 10:30-12:40. Upon arrival Hochiminh, pick up and transfer you to Hotel in Hochiminh.Check in time is 14:00.
At leisure and overnight at hotel in Hochiminh.
Day13: Hochiminh departure @ 6:40 AM (B)
4:00 AM pick up and transfer you to the airport for your departure flight.
Ends of service.
                     Caption: B = Breakfast; L = Lunch; D = Diner
ACCOMMODATION :
Trip includes
All accommodation on 2 connecting rooms basis with daily breakfast
Meals as indicated (B = breakfast; L = Lunch; D = Diner). Special requirements  (vegetarian, diet etc.) could be arranged upon request
All transfers/ transport as indicated
Tours with entrance fees, boat cruise, transfers and  English speaking during guided time
Halong Junk cruise  with guide on board
1 private cabin train Hue- Hanoi
Trip excludes
International, domestic airfares & airport taxes
Pre/post trip arrangement
Visa and visa arrangement
Airfare: Hochiminh -Danang ; Hanoi- Hochiminh
Travel insurance
Meals not indicated
Other personal expenses
Early check in/late check out hotels
Banking service charge
---
Calendar
Daily
Departing
Days
Price
Check more tour option... Book this trip
Sunday, 05 April 2020 13D-Vietnam trip
13 days/12 nights

Book now

Monday, 06 April 2020 13D-Vietnam trip
13 days/12 nights

Book now

Tuesday, 07 April 2020 13D-Vietnam trip
13 days/12 nights

Book now

Wednesday, 08 April 2020 13D-Vietnam trip
13 days/12 nights

Book now

Thursday, 09 April 2020 13D-Vietnam trip
13 days/12 nights

Book now

Friday, 10 April 2020 13D-Vietnam trip
13 days/12 nights

Book now

Saturday, 11 April 2020 13D-Vietnam trip
13 days/12 nights

Book now

Sunday, 12 April 2020 13D-Vietnam trip
13 days/12 nights

Book now

Monday, 13 April 2020 13D-Vietnam trip
13 days/12 nights

Book now

Tuesday, 14 April 2020 13D-Vietnam trip
13 days/12 nights

Book now
---